Máy may không chờ toàn tự động (Non-Stop Sewing)
RPAS-NS-1-900X600-B-2-LH,HM

Thích hợp cho các loại trang phục bông, nhung, chi tiết trang phục, gia dụng, đồ chơi, áo giáp bảo vệ, túi xách, giày, nón mũ, nội thất xe hơi, và những sản phẩm may tự động
Similar Recommendation
Product Introduction
Tốc độ làm việc : 2500vòng/phút


Đầu máy có thể nâng hạ đến 50mm


Suốt X + di chuyển trên đường ray, đảm bảo độ chính xác cao, ổn định.


Khung AB có thể làm việc độc lập, làm việc tuần hoàn.


Có thể lắp đặt tổ kiện chống "chống muối tiêu", thực hiện quá trình may không lên bông.

bộ nhớ dung lượng lớn có thể nhớ được 200 vạn mũi kim.


Chức năng ghi nhớ số chỉ mặt dưới, có thể dực vào độ dài chỉ dưới hoặc số lượng tấm, thực hiệ việc cảnh bảo dung lượng chỉ.


Chức năng tuần hoàn mẫu, cho phép tự động đổi mẫu tuần hoàn.
Richpeace Automatic Non-stop Sewing Machine is one of the new Computer Digital Control Sewing Machine. It is the new member of Richpeace 4G Sewing Machine. A low-carbon environmental protection equipment with garment CAD software, computer control system and computer embroidery and quilting technology. Non-stop sewing machine doesn't need to stop for preparing the sewing fabric, it divided into A and B working area, alternated run. When A is running, B can prepare the fabric for next sewing process, A and B don't effect each other. One operator is enough. Achieving the non-stop sewing and enhance the efficiency.
Working speed: 2500rpm.

Sewing head independently liftable up to 50mm.

Sewing head and Hook case move on X-axis with ball screw drive, ensure high precision. stable and reliable.

Two independant working area A/B shift without machine stop or joint A & B working area together being a super large sewing area.

Able to be equipped with down-proof mechanism, avoid down leakage during sewing.

Large storage capacity, save 2 million stitches.

Bobbin thread counter enable to provide bobbin thread capacity alert by bobbin thread consumption or number of sewing pieces made.

Four design patterns circulate function: support four patterns to be automatic switchable.
High speed lifting head can up and down from 0 to 50mm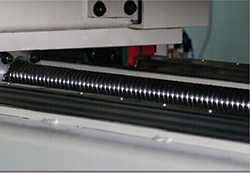 Driven by the screw to ensure the sewing stitch is accurate and stable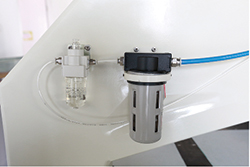 Intelligent atomization lubrication system